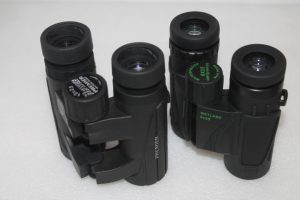 OK, 12×25 vs 8×25 compact binoculars is not an exact like for like comparison, but for different reasons two customers on the same day picked one then the other at the Northern Optics weekend display when we was present with our weekend display at the Waters` Edge country park and visitor centre . Both were at the time of this post under £50 and £40
After trying the two sets, the 1st customer went for the Hawke Premier 12×25, simply due to the greater magnification they offered. The added bonus was that as they were the old model, they was being cleared at just £39.00. This is amazing value for a set of binoculars with multi-coated optics and Bak-4 prisms.
The second customer however chose the Visionary Wetland 8×25 binoculars. The wider field of view and slightly sharper and brighter image was a plus point. But the main selling point was the much better handling and ease of use over the Hawkes.
This just goes to show, what suits one customer does not suit the other, and it is always best to try before you buy