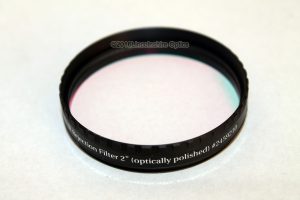 The Baader 2″ UV / IR rejection filter is an absolute must have for webcam and CCD imagers.  Reflects destruction heat radiation. Scratch resistant 7 layer multicoating. Reduces ghosting for pin sharp star images. The only infrared blocking filter in this price range featuring a planeoptically polished substrate, parallel to within 30 seconds of ark.
Can be used on conjunction with Baader contrast booster filter and Solar continuum filters for greater effects
98% transmission across the visible spectrum. Very limited availability with most dealers now only stocking the #2459210-A version.
If still available, click HERE to purchase from Northern Optics