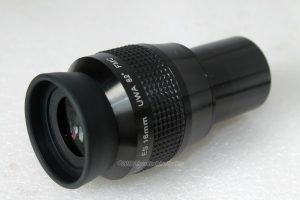 Here at Northern Optics we had a look at the new Skywatcher 16mm Nirvana-ES UWA-82 eyepiece. This is not an optics test, but a chance to look at the construction and packaging.
So to start off with, the box is a simple design with no images. It does show the brand name and item codes. But on the plus side it is a very sturdy box that will keep its shape overtime. This is where some eyepiece packaging can fall short.
Taking the eyepiece out the box, we find it very well protected with bubble wrap surrounding the eyepiece. On the subject of the eyepiece, for a UWA-82 it seems very compact compared to some others with similar spec, considering the 7 lens elements in 4 groups. Lens caps are at either side.
The eyepiece itself feels very solid, despite the 200g lightweight construction. Very nive black finish with a secure textured grip.
This version has the same optics and coatings as the old model, but has a fold down eye cup, compared to the twist type on the older version. But this is not a bad thing, as it folds down very easily. Note that eye relief is only 12mm, so may not suit all spectacle wearers. In my case, with glasses on, I got around 90 percent of the view with spectacles on / eye cup down.
If the optics are a major factor to you, and you do not wear spectacles, the latest Nirvana-ES has a much lower price point compared to the first version, so has to come with an excellent value for money tag. Recommended.