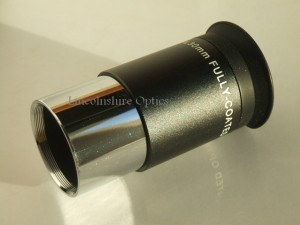 To test the Optical Hardware / Ostara 30mm plossl, I viewed the Moon using a Visionary Telesto 114mm telescope . This gave a 33.3x magnification.  After allowing for cooling off times, I was greeted with a delightful full view of a crescent Moon.
First thing was to get used to the very long eye relief. I would estimate 20mm or just above. This meant that I could get comfortable views without having to close one eye.
Despite the low magnification, a tremendous amount of detail within craters could be easily detected.  On this occasion, I could easily make out detail in the shadowed side of the moon (Earth Shine).  The wide field of view meant you had very little adjustment of the telescope to make, to keep in view. This is ideal if more than one person wants to view the same target.
No false colour (chromatic aberration) was evident.  To test this further, I placed the Moon on the edge of view.  Edge of field detail on the Moon was still very clear, with no fine tuning of the focus wheel needed. When switching to the 15mm plossl, I also found almost no re-focusing was needed (par focal).
Build quality is excellent. No eye cups are included. That said, you do get a handy bolt case. The eyepiece is threaded to accept 1.25″ eyepieces.