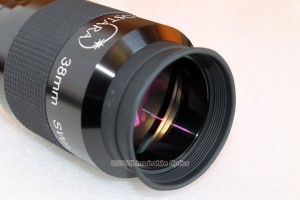 The Ostara 2″ SWA-70 are designed to give picture window wide field of views if the night sky. Available in focal lengths of 26mm 32mm and 38mm there is a good range of choices. Each has long eye relief for spectacle wearers, great internal blackening for reduced reflection and fully multi-coated optics for bright views with high contrast.
Eye cups are fold down. But in most cases you will be able to leave them out. The cups are very soft for comfortable views and help reduce stray light. Build quality is excellent with a sleek glossy finish. A useful rubber strip is around the centre of each eyepiece to aid grip if using gloves
Each eyepiece comes boxed and complete with lens caps. Threaded to accept 2″.
With a retail guide price of £94.95 – £104.95 they are very competitively priced
Available to purchase from Northern Optics