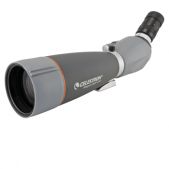 A customer came to the Northern Optics weekend outlet at the Waters` Edge visitor centre at Barton Upon Humber looking for a premium spotting scope for viewing coastal wildlife. Without hesitation they chose our Celestron Regal M2 80mm twin eyepiece set. The twin eyepiece set comes with a 27x fixed eyepiece. This is perfect for low light conditions, plus has stunning edge of field sharpness.
For more general use the Regal M2 20-60x eyepiece gives a sensible range of powers, with the bonus of accepting a DSLR camera body with a t-ring (not included).
The ED glass from the Regal M2 range give excellent colours and contrast with minimal chromatic aberration. Handling is excellent with a dual speed focus mechanism. Nitrogen waterproof for use in all conditions, with the back up of a stay on case to keep the elements out.