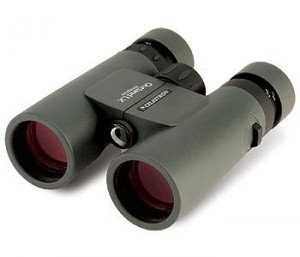 Solid build with great quality optics. Although the Celestron Outland LX 10×42 have been around for a few years, they can still give more modern designs a good run for their money.
Quite compact in design compared to some other 42mm binoculars. Yet they feel solid and well put together. Handling is superb, with a gripy body and smooth focus wheel. The twist eye cups are a little stiffer than some, but that is not a criticism. First time out the box, the dioptre adjustment was very hard to turn. But once moving, it became much more fluid.
Eye relief is very good for spectacle wearers. The 3-stage dioptre adjustment is excellent.
Due to the focus gearing, there is less than a quarter turn needed for distances from 10m to infinity. On the subject of focusing, the close focus is extremely good. At 5ft, 8ins I could easily focus on my own feet. This is closer than the quoted 6ft. Though I did find it hard to get a circle at such a close range, so had to shut one eye.
Compared to some modern ED and phase corrected binoculars, you don't get as bright an image, plus there is a little CA evident. But don't let this put you off, as you get a fantastic image for £50+ less than some modern binoculars in the same class. Very good internal baffling gives virtually no internal reflection.
The soft case , lens caps and neck strap are of a very high spec.
Great multi purpose binoculars that are excellent value for money. Highly recommended
Please note the Celestron Outland LX 10×42 binoculars are now discontinued.