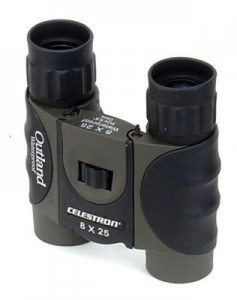 As soon as you take the Celestron Outland 8×25 binoculars out the box, you will realise they are bigger than your average 25mm sets. In fact when they are folded, they feel like you are holding a pair of 8x32s. They are packed very tightly in the box, so you may find a small crease in the soft case.
As for handling, they extra size makes them feel very easy to hold. The rubber armour is very strong and thick. The focus wheel on the two models I tested was not that smooth, so I am guessing its the same with all models (not that its a problem). The eye cups fold down to the point where I could almost get full frame with spectacles on.
As for the optics, the price of £38 (2011) reflects this. They nicely bridge the gap between the budget £20 optics and the higher quality £59 binoculars. BaK-4 prisms , nitrogen waterproofing and multi-coated optics are impressive specs for the price.
Eye relief is better than expected. I found myself when not using spectacles having to hold them slightly away from my eyes to get best results
As for the optics, they have a narrow "sweet spot" where the image is crisp. So you will need to keep working the focus wheel to keep the image at its best. I found them OK in normal daylight, but may under perform in low light conditions.
Buy Celestron binoculars online here