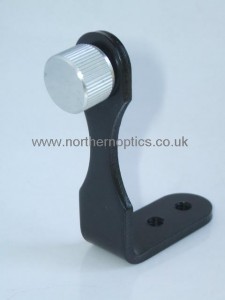 As seen in the BBC Sky at Night magazine, the Optical Hardware binocular tripod adapter is the perfect low cost solution for mounting your porro prism binoculars to a tripod or other mount, such as a mono pod or car widow mount.
Designed to fit onto porro prism binoculars up to 70mm. Perfect for 15×70 binoculars that often come without a tripod adapter, or an inadequte plastic ones.
To fit, simply screw into the tripod female thread in between the two main lenses.  Then attach to a tripod. If unsure if your binoculars will be suitable, contact your binocular dealer for advice
At just 80g, it wont add much more weight to your collection. Presented in an attractive black gloss body, and silver tightener. There are two tripod holes, so you can alter the weight distribution if the binoculars are front or back heavy.
So why do you need a binocular tripod adapter. Not everyone has steady hands, and binoculars such as 15x70s are just too heavy to keep still.  For looking at astronomical targets, a mounted tripod is a must have. Stars will appear to jump around if you struggling to hold them still. A mounted binocular is also perfect for birdwatching from out in the open fields , or in a bird hide.
If with a group of people, and you want others to see the same terrestrial or astronomical targets, a pair of binoculars locked in the same position will make it easy for everyone to see the same subject. 
Click here to buy for just £13.99 including delivery from Northern Optics