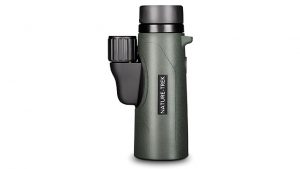 The Hawke Nature-Trek 8×42 monocular (10x also available) is the replacement for the old 10×50 version. There are many added benefits with this new model, which firstly include the more compact size.
Handling The more compact size makes for much more easy hand holding, with the lighter weight making for less arm strain. Although it has a close focus of 2m, you will find for general use from around 20m to infinity, you will only need around half a turn of the focus wheel, meaning there is no need to keep lifting your finger off the wheel for speed of use. The twist eye cup feels comfortable against the eyes.
Optics Quoted as fully multi-coated optics with BaK-4 prisms. Firstly, I must say that despite not being ED glass, the amount of chromatic aberration around high contrast subjects is very low on or near the centre, with just a thin line (colour fringing) around the edge. Contrast and brightness is on par with other 8×42 binoculars with the same spec. Excellent internal baffling helps reduce reflection and helps improve contrast. On the edge of view is a thin blue line, which is better than some that have a slight orange cast. The 129m @ 1000m field of view makes easy tracking of moving wildlife. Birds in flight for example.
Accessories The monocular comes packaged in a hard box, like the rest of the current crop of binoculars , which helps protect then when in storage. The case is a basic but functional nylon soft case with belt loop. Although there is accommodation for a mini tripod on the side, this is not included. The black wrist strap is very nice and comfortable to use , with white stitching. Complete with lens caps, which is a drop down one on the main objective and a push on one for the eyepiece. The eye piece lens cover features an opening for the strap to feed through , so keeping the cap attached. Lens cleaning cloth is a small microfibre. A basic instruction books shows you how to focus, care for your monocular and details about the warranty. The 42mm Nature-Trek monoculars come with a thread for tripods etc.
Very recommended and available from Northern Optics